Who is The Balkan Son?
I am a human male in his late 20s. I was born and raised in Athens, Greece, Balkan Peninsula, Europe, The Planet Earth. I am a Marketing and Tourism graduate, as well as an avid traveler, polyglot, amateur writer and lover of good food & political conversation. I believe telling stories is the best way to engage people in a conversation; my goal is to one day become a professional storyteller.
Since my teenage years I developed a strong attraction towards the Balkans. It all started with a sudden decision to learn Serbo-Croatian as a hobby at the age of 18, which eventually developed into a long-term life project. As a result, I've extensively travelled within the Balkans, a place I very much consider home.
What can I find in this blog?
This travel blog comprises of two different parts: Travel Pages and Daily Rants.
Travel Pages is an area where you can find ideas for short trips and and out of Europe, city guides, as well as other travel lifestyle topics. All of these are based on my own experiences, however I would love to have guest bloggers as well, describing their own favourite places on the globe.
Daily Rants is a more personal area of the blog, where I analyze different topics related to adult life, living as an expat, as well as politics and pop culture topics. My goal in these pages is not only to express some thoughts, but also to provide food for thought or to create a conversation with the readers. I would love to see your comments in that section.
When did you make your first trip outside your home country?
I was actually a late bird and first traveled abroad at the age of 18. My first destination was London and some surrounding towns for Christmas. I have very vivid memories of how liberated this trip made me feel, it was such an eye-opening experience! The confidence I acquired made me realize travel is not hard, as long as you do it right 🙂
Where have you traveled so far?
I have been fortunate enough to visit 39 countries so far. I do not follow a checklist attitude, but I would love to see most countries in my lifetime. You can see my visited countries in the map below: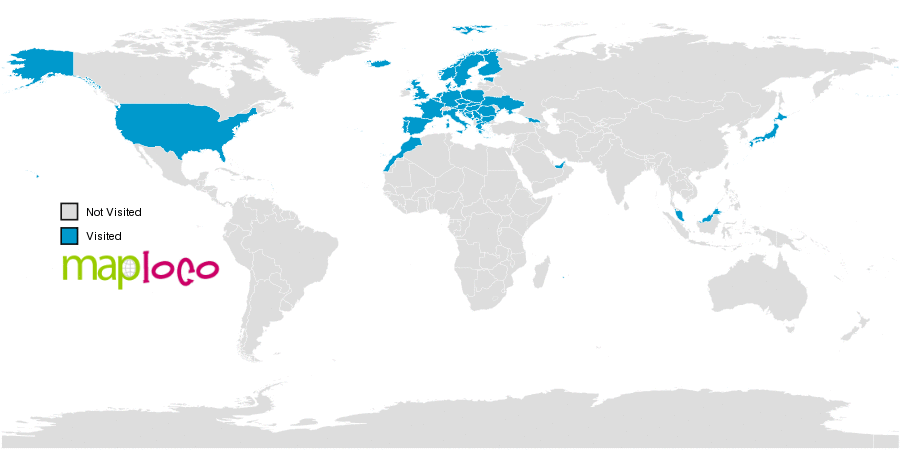 Create Your Own Visited Countries Map
Which is your favourite tourist attraction, city and country in the world?
As of June 2017:
Attraction – Meteora, Greece
City – Tokyo, Japan
Country – Slovenia
If you won a voucher to fly to any new destination, which one would you pick and why?
I would use this opportunity to fulfill a quite expensive dream of mine and visit the Pacific island nation of Palau. I always wanted to swim and snorkel in those pristine waters, surrounded by harmless jellyfish and explore World War II ruins and shipwrecks!
I love this blog and wonder how could I be part of it?
That sounds great! I would love to see your articles posted on this blog, so feel free to share your travel experiences or personal thoughts with me! All it takes is an email and a small sample of your work/idea.